Calling it a day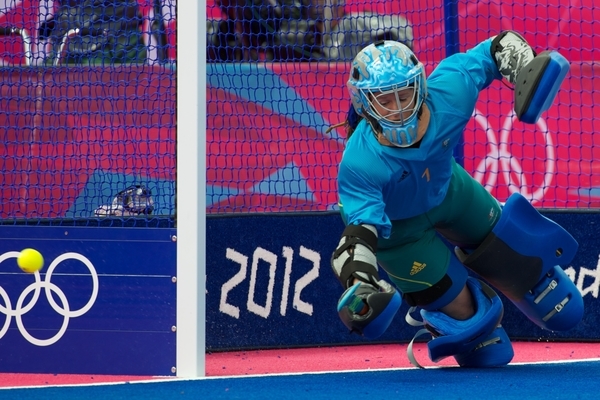 Toni Cronk calls time on Hockeyroos career
Author: Lawrence West/Thursday, 1 August 2013/ from: www.hockey.org.au
Hockeyroos goalkeeper Toni Cronk has announced her retirement from international hockey. The 33 year old from Sydney, NSW, has decided to hang up her helmet and pads after more than a decade playing for Australia's women's hockey team.
Cronk, who was named in the 2009 World All Stars Team, ends her career as a double Commonwealth Games gold medallist and double Champions Trophy silver medallist. In all, she was capped 135 times for the Hockeyroos and represented Australia at two Olympic Games, the World Cup, two Commonwealth Games, five Champions Trophy tournaments and three Oceania Cups.
Announcing her decision to retire, Cronk admitted, "There's never going to be a 'right time' [to retire], but maybe in time I'll feel this has been the right time. It's a bit like ripping a band aid off."
She was a key member of the team at the 2012 Olympic Games in London, where Australia conceded just two goals. It was her third Olympic call-up following a squad place at the Athens Games of 2004 and the role of reserve at Beijing 2008. The tournament, in which she played every game, ranks as her number one career highlight.
Remembering it, Cronk said, "I played in every game, which was great. I'd never been to a major tournament and played in every game. I had done two Olympic campaigns before that and in the previous two Olympics I'd played eight minutes.
"I want to say 'thank you' to Commo [Head Coach Adam Commens] for believing in me and giving me the chance to prove I still had the ability to play at that level. There are so many other people I would like to thank, too, and it would be an extremely long list but suffice to say they know who they are. I hope to get in touch with all of them at some point over the coming months, all the people who've had an impact on my career."
Cronk added thanks in particular to Kathleen Partridge, the Hockeyroos' goalkeeping coach who worked with her in the 18 months prior to the London 2012 Olympic Games. She said, "I would also like to thank Kath for all that she did for me in the lead up to London Olympics. She challenged me to be the best that I could be and she put me out of my comfort zone in an environment that was consistent. For that I am very grateful."
Hockeyroos Head Coach Adam Commens paid tribute to his goalkeeper, saying, "Toni's somebody who epitomises what it means to work hard for their success. Since her debut in 2001, she hasn't always been first choice goalkeeper but she kept working hard and improving. She was a key player for us at London 2012.
"She continued to work hard and had belief in what she was doing. Her career shows that if you stick to your guns the rewards will come, but maybe not in the first year, or the second, or even the eighth. She cherished every game she played, persisted through disappointments and continued to improve her game culminating in her memorable Olympic Games performances in London. Players like that are few and far between and we need more like her in Australia."
"Toni has always been very professional, very driven. She loved playing for the Hockeyroos, right up until the day she called an end to it but she's made a choice in terms of her family and other commitments and I wish her well."
In the coming months, Cronk is set for perhaps an even greater challenge than cementing a place at the Olympics. With her partner pregnant, Cronk is set to become a mother in December, something she says has played a significant part in her decision to retire.
"The baby's arrival would have made me unavailable for the World League finals in December and that might have meant I wouldn't play in matches leading up to it. I'd have wanted to take time off when the baby was born and then there's the question of whether my body is going to handle me playing. I find now, as I get older, that the body tends to hold on to those little niggles a bit longer that it used to."
As well as becoming a mum, Cronk is hoping to build her goalkeeper coaching business. Away from hockey, she'll be looking to step into the world of motivational speaking and coaching. She also has plans to build a property portfolio.
Hockey Australia congratulates Toni on a fantastic career and wishes her all the best for the future.
Visit Toni's website, Toni Cronk GK online at www.tonicronk.com.au, to learn more about her goalkeeper coaching clinics for hockey clubs and individuals. 
Toni Cronk's Career
October 2001 – Makes senior international debut for Hockeyroos against New Zealand
August 2002 – Member of the Hockeyroos squad that finishes fourth at Champions Trophy
May 2003 – Plays in first Oceania Cup. Hockeyroos win the tournament
August 2004 – Plays in fifth-place playoff at 2004 Olympics. Hockeyroos beat New Zealand 3-0
November 2004 – Finishes fourth with Hockeyroos at Champions Trophy
December 2005 – Wins silver medal at Champions Trophy in Canberra as Australia lose to Netherlands on penalties in the final
March 2006 – Wins Commonwealth Games gold medal
September 2007 – Plays in Oceania Cup
August 2008 – 'P' accredited reserve athlete for the Beijing Olympic Games. Doesn't play
July 2009 – Wins Champions Trophy silver medal in home city of Sydney. Australia denied gold on penalties again, this time by Argentina
August 2009 – Third Oceania Cup
December 2009 – Named in FIH World All Stars team alongside teammates Madonna Blyth and Casey Eastham, and then coach Frank Murray
September 2010 – Member of the Hockeyroos' World Cup squad that finishes fifth
October 2010 – Wins second Commonwealth Games gold medal
July 2011 – Plays in fifth Champions Trophy campaign
August 2012 – Concedes just two goals as Hockeyroos finish fifth at Olympic Games in London
June 2013 – Member of the squad that wins gold medal at World League Semi-Final in London
August 2013 – Announces international retirement